We know how scary it is to be an MSP marketing newbie (after all, we were in your shoes once). You're probably struggling to:
Clearly articulate your brand's value.
Differentiate your company from other managed service providers.
Gain brand recognition.
Optimize your website with search engine optimization (SEO).
Attract and convert leads.
Maintain a consistent social media posting schedule.
Win your local community's market.
If any of these challenges sound familiar, you're in the right place.
Today, we're going back to basics with nine effective MSP marketing strategies for wowing your target audience and building lasting customer relationships. Let's get started!
#1 - Keep Your Messaging On Point
We can't emphasize this enough: your messaging is the basis of your entire marketing strategy as a managed service provider.
While you should develop your messaging around what you do and why you do it better than everyone else, be careful not to make it all about you. When crafting your marketing message, make sure it's:
Clear
Can your marketing team articulate what you do? If your customer has to work to figure out what services you provide, you risk losing them to your competitor with clearer, more concise messaging.
Customer-focused
The driving force behind your messaging should be how your customer benefits from what you do. Show that you're empathetic to their plight, then define exactly how your offering helps them solve their problems.
Unique
One of the best ways to craft messaging that serves as an effective lead-generation machine is to showcase the qualities that set your business apart from every other managed services provider. Figure out what makes you unique and use your MSP marketing to emphasize how these strengths can help your customers.
#2 - Brand Image Is a Big Deal
Looks aren't everything – but they're a big deal when it comes to your brand image.
Your brand image is how you present your company to the world, so you need to put your best foot forward. Your brand image should be:
Current
Your brand image should be as modern and cutting-edge as your solutions, so stay up-to-date on current MSP marketing trends in color palettes, fonts, and taglines.
Consistent
Build recognition by keeping your brand image consistent across your physical and digital marketing assets – from email signatures to banner ads and beyond.
Compelling
Your brand should compel and connect with your audience through authentic, relatable, and emotionally engaging visuals.
#3 - Build a Website That Works for You
A professional website isn't just a tool to showcase your offering – it can also be an integral part of your MSP marketing strategy if done right.
An effective website will do a lot of the heavy lifting when it comes to attracting and enticing customers, so make sure your site:
Earns high-performance scores
Search engines look at several factors when scoring websites, including page load speeds and design responsiveness.
If you're not sure how your MSP website stacks up against competitors, there are plenty of handy tools to help your marketing team figure it out (like our free website grader). Performance optimization isn't a one-and-done deal, so make monitoring your website's performance a regular part of your digital marketing process.
Passes the grunt test
Visitors should be able to "grunt" (think caveman) what you offer, how it'll improve their lives, and what they need to buy within a few seconds of landing on your MSP website.
As a managed services provider, you'll want to focus on explaining how your services can add value to your prospect's business in terms the average person can understand – that means no technical jargon.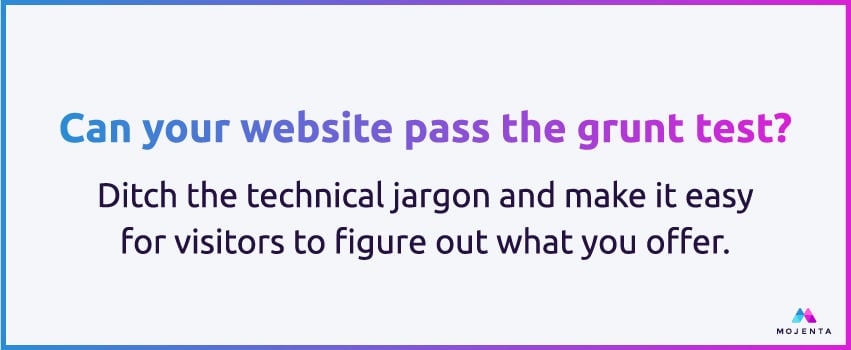 Has that wow factor
Your site should wow your target audience without using gimmicks at the expense of user-friendliness. Draw customers in by applying your brand image in a visually-pleasing way and using persuasive messaging that entices the reader to learn more.
Is a lead-generation machine
If your website isn't an extension of your sales team, it's not living up to its digital marketing potential. A site designed with conversions in mind can help you attract the right leads and simplify the MSP sales process.
Makes it easy to reach you
Your customers don't want to spend too long searching for information, so make it easy for them to get in touch with you. Having multiple CTAs on your homepage with big, bold buttons that lead to your contact page is totally fine.
Builds customer trust
Customers want to see social proof that your services and products work, so place trust builders like testimonials and case studies in prime spots on your website.
Is SEO-optimized
How long has it been since you've optimized your MSP website for new buzzwords? Search engines are your friends when it comes to reaching new customers, so keep up with keyword research and use tools like Google Trends to see how often your terms are getting searched.
#4 - Don't Forget Your Digital Presence
As an IT company, we're sure you know this better than most: a strong digital presence is non-negotiable.
Your internet marketing strategy should focus on engaging customers with:
Online reviews
Reviews on Google and other search engines show potential buyers you're a legitimate MSP business with satisfied customers. Is your business light on reviews? It's ok to solicit them from existing customers you have a good relationship with. Genuine advocacy from satisfied customers can work wonders for your brand image.
Local SEO
Don't underestimate the power of highlighting local SEO in your MSP marketing plan since some of your best prospects will be in your geographical area. You can work local SEO into your digital marketing strategy by optimizing your Google Business Profile, submitting your business to online directories, and creating content relevant to your local audience.
#5 - Social Media Marketing
More and more clients search social media for their next provider, so keep your social accounts (like Twitter, Facebook, and LinkedIn) active and updated. Not sure how to make the most of your social media marketing efforts? Don't sweat it; we share tips for building a successful social strategy in our social media for MSPs guide.
#6 - Video Marketing
From our experience, most managed service providers aren't leveraging video in their digital marketing strategies right now. Big mistake. It's no secret that modern consumers prefer video to other forms of content marketing, so sharing educational, helpful, or entertaining videos can help you get a step ahead of your competition.
Use video in your MSP marketing strategy for benefits like:
Qualified lead generation
You can't attract new, high-quality prospects without building brand awareness, and an eye-catching video can instill your brand into a potential lead's consciousness faster than a blog post or email.
A boost in SEO
Videos can improve search engine marketing for MSPs – and you don't even have to be an SEO pro to make it work for you. New customers can easily click, watch, and share videos, so you can get referral traffic and potential backlinks to your website if viewers find your video share-worthy.
Customer engagement
Most people watch videos on social channels, so centering your online marketing tactics around video can help you get in front of customers on social and maximize your time with them. Videos also tend to get more engagement over other types of posts on social media platforms, so you can earn valuable insights from how new and existing customers interact with your content.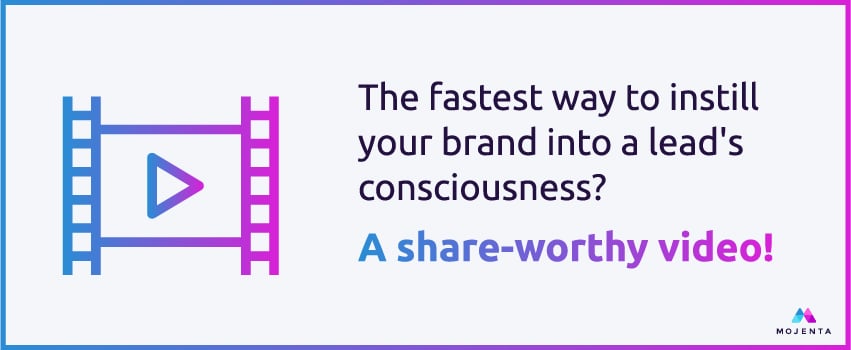 #7 - Consistent Communication Is Critical
Have you tried following a brand that only posts content now and then? Keeping track of a company that regularly falls out of touch is tedious, so if you ghost your customers, they'll ghost you right back.
Make sure your content marketing maintains a regular cadence of communication with:
News and updates
Newsletters are a useful way to share updates and industry news with your customers and prospects; plus, you can segment your distribution lists and customize the newsletter's content depending on who will receive it (customers love personalization, after all).
Nurture campaigns
Create personalized nurture campaigns to keep your brand top of mind for leads won through your inbound marketing efforts. Better yet, prove your expertise and thought leadership by sharing helpful resources.
#8 - Email Marketing
Email marketing is undoubtedly one of the best digital marketing strategies for reaching a B2B audience. When done the right way, an email marketing campaign can help you push more prospects down your sales funnel.
Leverage these email marketing best practices when creating your campaign:
Grab your audience's attention
Your email's subject line and preview text should be compelling enough to stand out in a crowded inbox. After all, no one will read the stellar content you worked hard to write if your email looks like it's not worth taking the time to read. When it comes to outbound marketing, grab attention by personalizing the subject line whenever possible.
Design with user experience in mind
Design your emails with the user experience in mind – especially mobile users. You can make navigating your email easier by putting critical information at the beginning and including a call to action that stands out.
Measure your results
Successful email marketing campaigns don't typically happen overnight. Find the best approach and fine-tune your MSP marketing plan by continuously testing and measuring your results.
Focus on lead generation
Email marketing tactics can be incredible for lead generation when used right. Luckily, digital marketing tools like marketing automation platforms or an integrated CRM can help your sales and marketing teams generate leads from outbound marketing email campaigns more effectively.
#9 - Advertising
Digital advertising is a must for any effective MSP marketing strategy, but trying to figure out which ad channels to put your marketing budget toward can be a little scary.
While some digital advertising methods are more effective than others, many managed services providers see success with:
Google Ads
Google's advertising platform is the safest bet for ROI, and Google Ads makes digital marketing for MSPs simple. If you're new to running a Google Ads marketing campaign,here's a helpful guide to help you rock the process.
Social platforms
We can't stress the importance of social media for your MSP digital marketing strategy enough! Social channels like LinkedIn, Twitter, and Facebook are not only essential for keeping customers engaged, but you can also leverage these platforms for paid ads and lead generation. Social media advertising can be great for collecting actionable data on marketing trends via likes, comments, and shares.
YouTube
YouTube advertising introduces managed service providers to a massive user base and search engine visibility. After all, YouTube is the second-biggest search engine following Google. By maintaining a presence on YouTube, you can tap into a built-in audience and establish yourself as a thought leader with informative, engaging videos.
Perfect Your MSP Marketing Strategy With Mojenta
Ready to build a brand that sets your IT company apart? Mojenta is the MSP marketing company that has helped MSPs create high-performance marketing and sales machines for over a decade with our unique, holistic approach.
As a full-service marketing agency, we can work with you to launch a marketing plan that grow your business by leveraging data-driven inbound marketing tactics, designing conversion-optimized websites, crafting memorable brand messaging, and much more. Schedule a call with our pros today to get started!