Not too long ago, digital advertising seemed more aspirational than realistic – kind of like the IoT of the advertising world. But just like smart refrigerators and wearable devices, digital advertising has become the norm – and it's especially useful in the telecom industry.
In the world of telecom advertising, businesses need to demonstrate thought leadership and industry prowess. While this is primarily done through content marketing, you can show your savvy through your advertising strategy as well.
Some digital telecom advertising methods are more effective than others. Here's our take on the ones that work best.
Search & Display
It's time to get to know Google, one of your best friends in the telecom advertising world.
Search Ads
If you've ever run a search in Google, you've seen the prominently placed links that show up at the top of the results. This is one way to use paid advertising to easily reach your audience.

There are a couple of different types of search campaigns:
Branded search, where your paid advertisements show up when someone conducts a search for one of your branded terms. For example, searching for Mojenta results in our website showing up above the organic listings.
Product/service promotions

, where your offering shows up as a paid ad above other listings when someone searches for keywords related to your product or service. A landing page for a hosted VoIP product, for instance, can show up above organic listings when someone searches for

remote work cloud voice solutions

.
The timeline for success on your search ad campaigns depends on your budget and the amount of data Google is able to collect from how users interact with the ads. The more interactions Google sees, the better it can place your ads to users most likely to convert.
Display Ads
Display ads are the most common form of digital telecom advertising. If you've ever seen a banner ad or pop-up ad (and maybe even clicked on it), you've been effectively targeted by this method.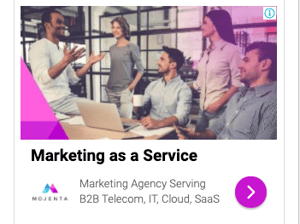 There are a number of different types of display campaigns:
Traditional, which are usually image-based with minimal text.
Responsive, which utilize multiple text headlines, descriptions, and images. The ad platform uses an algorithm to determine which format performs best for the target audience.
Retargeting, a more personalized display ad that's shown to people who have visited your website, landing page, etc. but haven't completed an action (e.g. filling out a contact form or downloading an ebook).
Native

, which are intended to not look like ads at all. These are designed and placed in the same style as the content of the website being visited.
Display ads can be placed contextually, according to criteria you set like keywords, location, or the browsing history of recent visitors. Placement can also be interest-based, where ads are placed based on general user behavior.
For example, you can use retargeting to advertise to users who view your UCaaS-related resources, but who leave your website without taking any action. Your ad for a white paper/webinar landing page/scheduling link can then appear to that user on a different website – giving them a reminder that they were reading up on UCaaS and that you offer something that meets their needs.
Social Media
You're (hopefully) already using social media as part of your content marketing strategy – but you can take it a step further and leverage platforms like LinkedIn, Twitter, and Facebook for digital telecom advertising.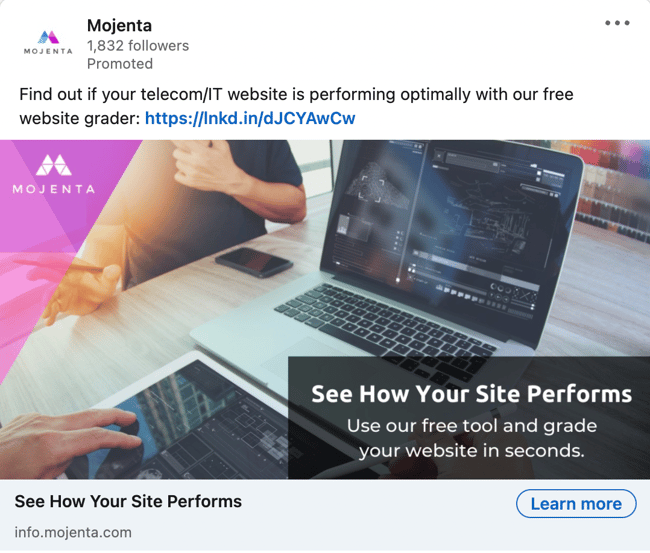 Advantages: It's easy to collect actionable data from sponsored ads. Looking at likes, comments, and shares is a natural way to determine if your social media ad is gaining any traction.
Using video on social has a specific advantage – if it's well-executed and goes viral, you have the potential to reach a much larger audience than you could have without a sponsored ad.
Disadvantages: At this point, we all know anything marked "sponsored" in our social feeds is an ad. Unless your ad is well designed and stands out above all other sponsored ads, it could get lost in the noise of other ads.
How Do You Determine Your Ad Budget?
Don't set your budget arbitrarily – it should be dictated by your cost per acquisition or the lifetime value of a customer. Be cautious not to eat up your content marketing and SEO dollars for advertising – these should all fall under separate categories in your budget.
Digital Advertising Help From the Pros
If telecom advertising isn't your area of expertise, the pros at Mojenta are here to help. Our ad campaign development process includes extensive research to identify and target your ideal audience. Once launched, we'll carefully monitor and optimize your campaign performance to ensure maximum ROI.
Upgrade your digital advertising strategy today. Our experts are waiting to get started creating an attention-grabbing campaign for your telecom, IT, or cloud business.