You've created a killer website, developed customer-focused messaging, and perfected your brand image – now what?
More than 50% of MSPs say finding new customers is their biggest challenge,1 which often comes down to an ineffective marketing strategy. If you're stuck on where to go next with your MSP marketing, you'll need to figure out what's going right – and what's way off base – in your marketing efforts.
Your competitors are out there attracting new customers while you may still be trying to get a handle on:
Segmenting your target audience so you can customize your messaging
Managing your analytics and email marketing on your own
Leveraging search engine optimization to get more eyes on your content
Determining which types of content perform best with your audience
Reaching potential leads where they're at with social media marketing
Investing in advertising – without wasting your time or money
It's time to tackle some of these key challenges with effective MSP marketing strategies. Read on for eight steps to help you take your growth game to the next level.
Step 1: Perform a Competitive Analysis
Do you have a firm grasp on the strengths and weaknesses of the other managed service providers trying to capture the same share of your market?
Once you know what your competitors are doing – and how you stack up against them – you can develop an MSP marketing strategy to improve.
Start by identifying your competitors based on three tiers:
1. Who are you currently beating?
You'll create and use this list to determine what you're doing right. Identify these companies by tracking MSP marketing metrics like search engine rankings, lead generation, conversion rates, and customer satisfaction to see where you're outperforming competitors in certain areas.
2. Who are your contemporaries?
These are your benchmark competitors (and with the right marketing for MSPs in place, you might start beating them, too). By keeping track of industry benchmarking initiatives and trends, you can see whose MSP marketing strategies are on par with yours and identify areas where you can set your brand apart.
3. Who can you grow into competing against?
They're ahead of you…but not for long.
After identifying your competitors, you can use a tool like SEMrush to examine their content and search engine optimization (SEO), paid advertising, and social marketing strategies. Look at what leaders in the MSP industry are doing right so you can better understand your audience and what they respond to.
Pro tip: we use tools like SEMRush to conduct this research.
Step 2: Target and Segment Your Audience
Before you plan your lead generation efforts, you need to know your target audience. Start by defining your buyer personas so you can hone in on the specific pain points of the decision makers you're selling to – and more effectively address their challenges in your marketing.
Once you know what makes your buyer personas tick, you can easily segment your prospect lists to create highly-targeted, effective MSP marketing campaigns for each persona.
Pro tip: Read the book Building a Storybrand to learn how to best craft audience-specific messaging.
Step 3: Leverage Website & Marketing Automation
An automation platform is essential for any modern MSP looking to make the most of their marketing.
There are a ton of tools available that handle everything from analytics to email marketing, each with different features and methodologies. Finding the best platform for your MSP marketing needs will be key here.
Mojenta prefers HubSpot because it has functionality across the entire marketing and sales ecosystem – centralized in one user-friendly tool. As an MSP marketing agency, we use it to help many of our own clients reach their goals – and we know first-hand how easy it is to maximize your MSP marketing efforts with HubSpot.
Of course, budget will be a factor when choosing marketing automation platforms, so consider multiple options if you're not ready to invest in a full automation suite.
Active Campaign, Constant Contact, and Mailchimp are all other popular digital marketing tools with less-robust features.
Step 4: Create Content
73% of B2B marketers use content marketing as part of their digital marketing strategy.2 Consistently developing and sharing relevant content can help you cut through the noise of all the other managed service providers trying to grab your target audience's attention.
Use your buyer personas to determine what to include in your content marketing that will keep customers and prospects engaged with your brand. Keep in mind that not all content marketing is created equal or has the same impact. Get more value out of your content marketing by researching which types of content work best for where your customers are in the MSP sales funnel.
For example:
White Papers
White papers are great for leads who have gone beyond the introductory phase of the funnel and are now looking for more comprehensive insights. These are typically long, in-depth pieces of content that cover a specific topic or address an industry challenge.
If you want to establish your MSP as a thought leader within your industry, white papers can help build trust with potential buyers while also providing helpful knowledge on how to overcome specific difficulties.
Blogs
Blogs are especially useful for top-of-funnel prospects as an introduction to your brand and what you have to offer. These provide readers with educational content that addresses their challenges while positioning your MSP business as an expert in the field.
When done right, blogs can help to boost brand awareness, drive traffic to your website, and build trust as a foundational part of MSP marketing strategy.
Ebooks
Ebooks can be effective at any part of the MSP marketing funnel.
At the top of the funnel, ebooks generate awareness about your brand and services by providing informative, compelling content and valuable insights that position your business as a trusted resource.
In the middle of the funnel, ebooks dive deeper into specific topics to showcase the unique benefits of your services to help potential customers evaluate their options.
At the bottom of the funnel, a valuable ebook can entice potential customers to provide their email addresses or other relevant details as an effective lead generation tool.
Interactive Checklists
Interactive checklists can provide valuable content that positions your company as an expert in the field while also helping potential customers evaluate their options. Interactive checklists can be used at any stage of the MSP digital marketing funnel – from generating awareness about your brand and services to serving as a lead-generation magnet.
Infographics
Infographics generally combine data-driven content with engaging visuals, which MSPs can use to communicate complex topics in a way that resonates with potential customers. When used strategically, infographics can provide an opportunity to showcase your brand's unique identity to reinforce brand recognition, display thought leadership, and position your company as a go-to resource.
Video Marketing
Video marketing can be useful at multiple stages of the MSP marketing funnel, depending on the content.
Videos that share engaging, informative content to address common pain points, industry trends, or challenges can effectively build brand awareness at the top of the funnel.
Videos that provide in-depth explanations of your offerings or compare different solutions to highlight your unique values can help potential customers in evaluating your MSP services in the middle of the funnel.
Videos that help push customers toward purchasing by addressing common objections, providing service demonstrations, or offering limited time promotions can be used to drive conversions as prospects move closer to the bottom of the funnel.
Webinars
Webinars are a powerful way to maximize your MSP digital marketing efforts. They offer a platform to engage and build relationships with prospects and existing customers alike by sharing thought leadership, educational or training sessions, product or service demos, and more.
As a bonus, webinars can also be recorded and repurposed as on-demand content. Keep your webinars working as lead-generation tools by making webinar recordings available through gated access, so you can continue to provide valuable resources to anyone who missed the live event.
Step 5: Be Smart About Your Ads
Targeted advertising allows you to leverage your buyer personas to minimize wasted advertising dollars. Generate leads and stay within your digital marketing budget by creating ads specifically targeted to the decision-makers you're trying to reach.
Google Ads
Don't waste money by creating one-size-fits-all messaging for your next Google Ads marketing campaign. Reports show that an estimated 72% of consumers prefer to engage with personalized marketing,3 and 42% actually get annoyed when content isn't tailored for them.4
If your MSP marketing strategy leverages Google ads (and it should!), make sure to put your buyer personas to use and create targeted content designed to solve specific pain points.
Youtube Ads
Youtube advertising offers advanced targeting options, so you can use this channel to get ads to the right people and drive traffic back to your MSP website. But keep in mind that, with so much video content available to businesses, yours must be informative and compelling enough to capture attention – otherwise, you'll blend into the background noise.
Paid Ads
Paid advertising can be invaluable for driving brand awareness and conversions when done strategically. With the right keywords, targeting options, and creative copywriting, paid ads help managed service providers reach a target audience more effectively than other forms of digital marketing.
However, without setting clear goals and regularly analyzing the results, it can be tough to generate qualified leads from paid ad campaigns. Remember to define key performance indicators (KPIs) early on and continuously monitor them to optimize your marketing campaign for better ROI.
Step 6: Explore Conversion Rate Optimization (CRO)
Conversion rate optimization, or CRO, is the process of improving your MSP marketing techniques to generate more qualified leads, increase revenue, and lower acquisition costs.
There are two approaches you can take to optimize your conversion rates:
A/B Testing
Particular words and phrases can elicit an emotional response that affects decision-making. A/B testing helps you better understand the impact of small changes like an email subject line.
Multivariate Testing
Multivariate testing is similar to A/B testing but takes into account a higher number of variables (e.g., both a design and copy change) – allowing you to test the effectiveness of entire design combinations.
Step 7: Don't Forget About Email Marketing
Emails may seem outdated in today's social media-driven age, but you shouldn't count them out just yet. 79% of B2B marketers say email marketing is still the most effective way to distribute digital marketing content,5 but reaching your audience with this channel will take some strategizing.
Don't Send Emails to Just Anyone
Sending promotional emails to people that don't want to read them is a waste of time. Make sure your email marketing list consists of prospects and customers who have actually shown interest in your services, and only send content that adds value.
Personalize Your Email Campaigns
Personalization is a must for increasing engagement rates – and not getting written off as spam. Use your subscriber's name in the email subject lines and body to create a sense of camaraderie, and customize the content based on their industry, position, or previous interactions with your business.
Optimize, Optimize, Optimize
If your emails aren't mobile-optimized by now, what are you waiting for? Non-mobile-friendly email layouts are a top complaint, especially since many people check their emails while multitasking or on the go. Make sure your emails are visually attractive and easy to scan through, even on the smallest of screens.
Step 8: Reach Your Audience Faster on Social Media
4.9 billion people worldwide use social media daily,6 which means a lot of opportunities for getting eyeballs on your content. Social media marketing reigns supreme as far as cost-effective ways to get your messaging out to your target audience, but to drive results, your social media marketing strategy should be deliberate.
Here's how to do it:
Schedule Posts
If you're planning to post multiple times a month on a variety of platforms, a scheduling platform can make your life easier. Use these to automate your social media posts, so you can have the freedom to "set it and forget it."
Stay Consistent
Stay top of mind on your prospects' social channels by staying at the top of their feeds. You can achieve this by posting compelling, value-added content regularly to consistently remind potential new customers of why they need what you have to offer.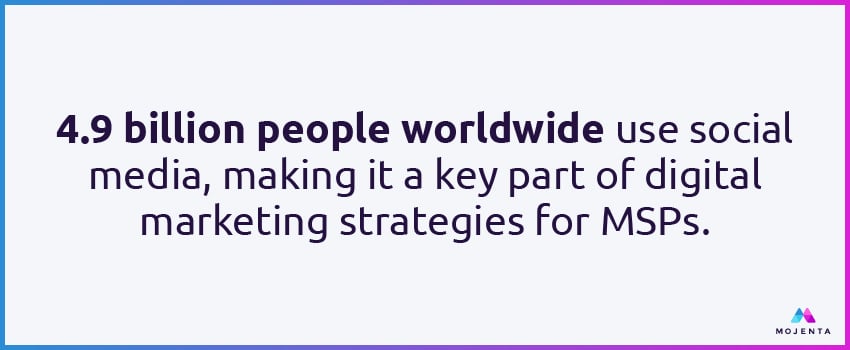 Use Rich Media
92% of people share videos they've watched online,7 so keep in mind that the quality of your content matters more than frequency. If you create an attention-grabbing video, your audience will help to drive engagement for you.
Develop Share-Worthy Content
If you're sharing content that resonates with your customers, they're more likely to serve as organic ambassadors for your brand. By engaging with and reposting your content, existing customers help to build trust with a broader audience.
Onward to MSP Marketing Success
These steps give you a solid foundation for MSP marketing success, but it's important to remember the iterative nature of marketing.
Our final pieces of advice for managed service providers from a seasoned MSP marketing agency:
Try different tactics. Some marketing trends will work better for your MSP than others. You might have to think outside the box to figure out what's best.
Measure everything you do. It might sound like a lot of work, but you can't determine an initiative's success without setting goals and measuring the results.
Implement data-driven decisions. Base all of your digital marketing decisions on data. Your gut instincts may be good – but make sure you can back them up with proven results.
Feeling a little overwhelmed? As an MSP marketing company, Mojenta has helped hundreds of MSPs transform their marketing strategies for over a decade. We have the experience and expertise to help you reach (and exceed!) your marketing goals. Schedule a free MSP marketing consultation with us today to get started.
Sources: