Reviewing and adjusting your budget is a must for getting the most value out of your B2B marketing efforts. Unfortunately, it's not the most straightforward process – so it's easy to fall behind.
In our recent blog, we explored the top marketing budget trends to help you stay competitive this year – including remarketing, event budgeting, and prioritizing analytics. Below, we dive into the current state of marketing budgets for B2B companies to help you stay on track to maximize ROI.
What's the Current State of B2B Marketing Budgets?
We pored over multiple expert resources to get a picture of the current state of B2B telecom and IT growth. Here's a breakdown of a few important considerations for evaluating your marketing budget:
Marketing Budget as a Percentage of Revenue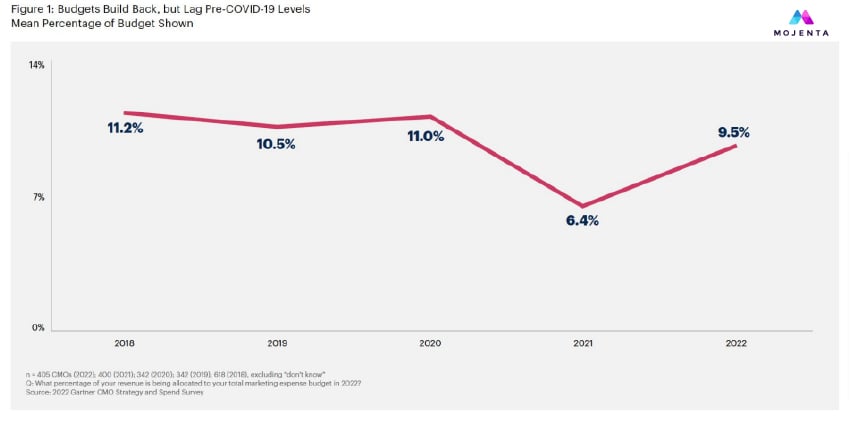 In the tech space, marketing budgets compared to revenue were around 10.5-11% pre-pandemic. This metric dipped to 6.4% in 2021, likely because businesses had to stop putting marketing spend toward big-budget events like expos and trade shows.
While we saw this percentage grow by 3.1% last year, it's not quite back to pre-pandemic levels yet. But don't worry – experts predict it'll continue rising, especially with more companies putting their event budgets under the microscope to ensure they're getting the most bang for their buck.
Marketing Budget Allocations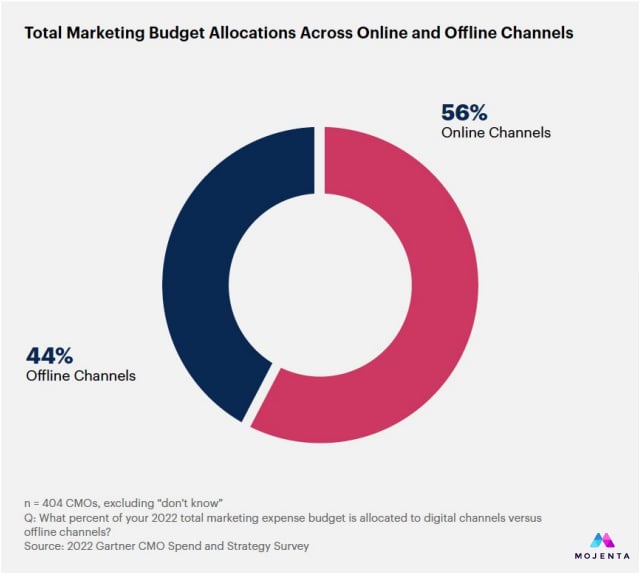 The pandemic forced businesses of all shapes and sizes into adopting digital technologies practically overnight. One interesting result is the shift in marketing budget allocations across offline and online channels.
Businesses are now allocating more than half of their marketing budgets toward online marketing efforts, with a focus on:
Campaign creation and management (10.1%)
Brand strategy and activation (9.7%)
Marketing operations (9.6%)
Social advertising has also overtaken search advertising, with more companies putting their paid ad spend toward building trust on popular platforms like LinkedIn, Facebook, and Twitter.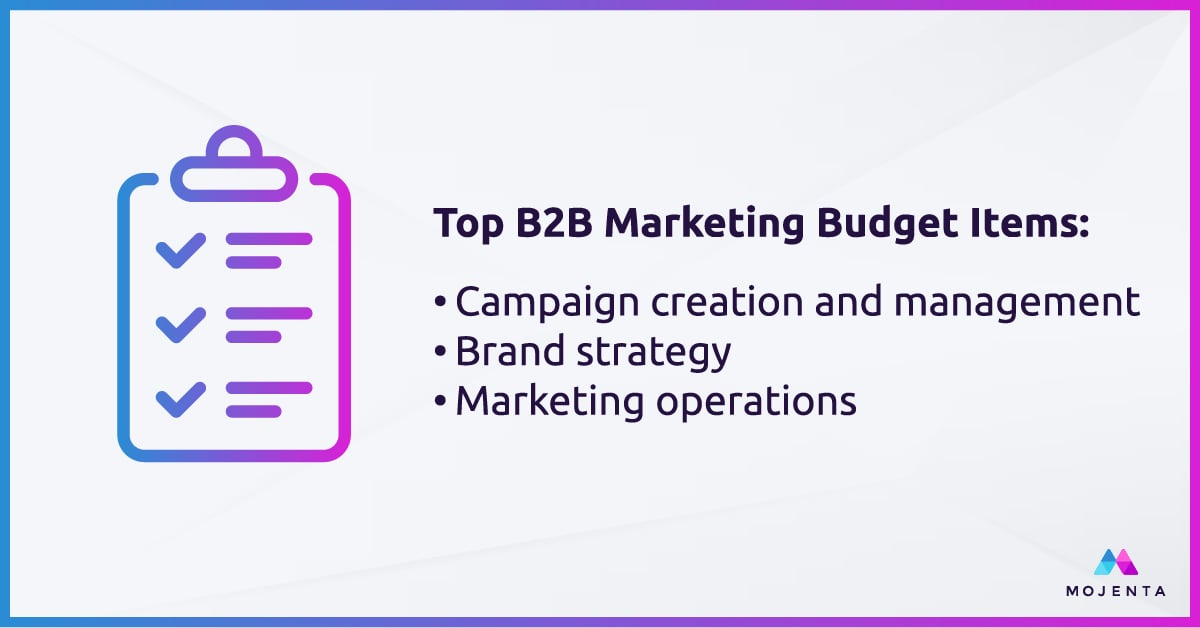 CMO Priorities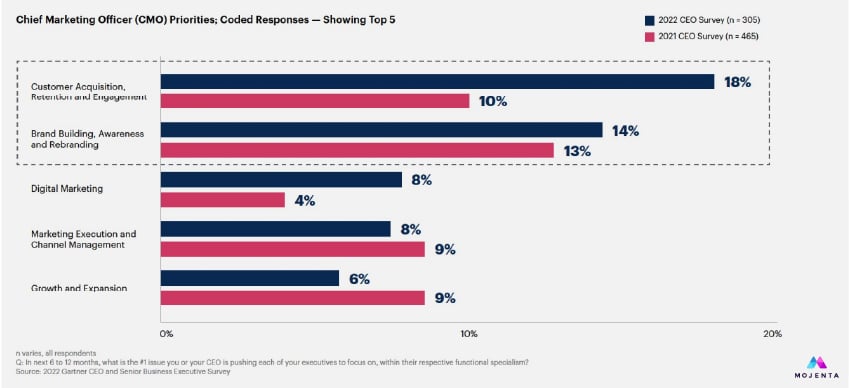 CMOs' biggest priority last year was customer acquisition, retention, and engagement, which increased by 8% from 2021. This means marketers are no longer just at the front end of sales – they're integrated into the entire customer journey.
Building brand awareness is another high priority. We saw a leap in brand strategy in the "marketing budget allocations" section as well, so it's clear that more businesses are emphasizing brand recognition as customer reliance on digital channels rises.
B2B Buyer Behavior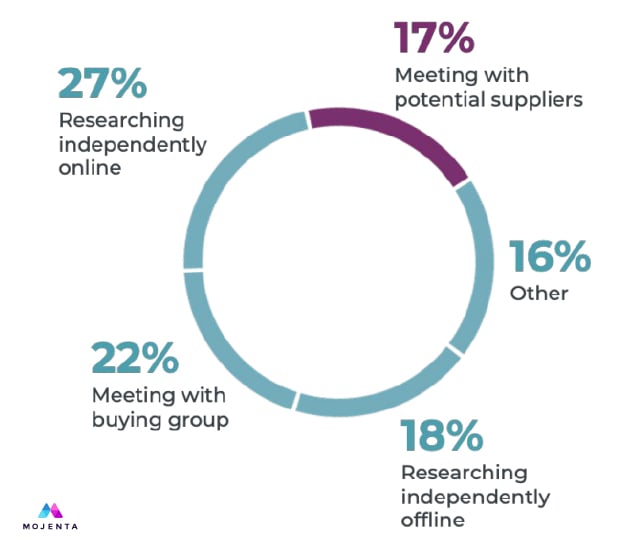 Probably the most important point to keep in mind this year is the massive change in B2B buyer behavior. More millennials are taking the reins in B2B buyer activities, and they're spending significantly less time meeting with potential suppliers and more time researching options online.
From what we've seen, many companies in the tech space haven't adapted to this shift. Millennials are digital natives, so sales teams are no longer the only people in your company that B2B buyers get their information from. In fact, virtually 100% of buyers want to self-serve all or part of the buyer journey,1 so it's time to adjust your sales process accordingly.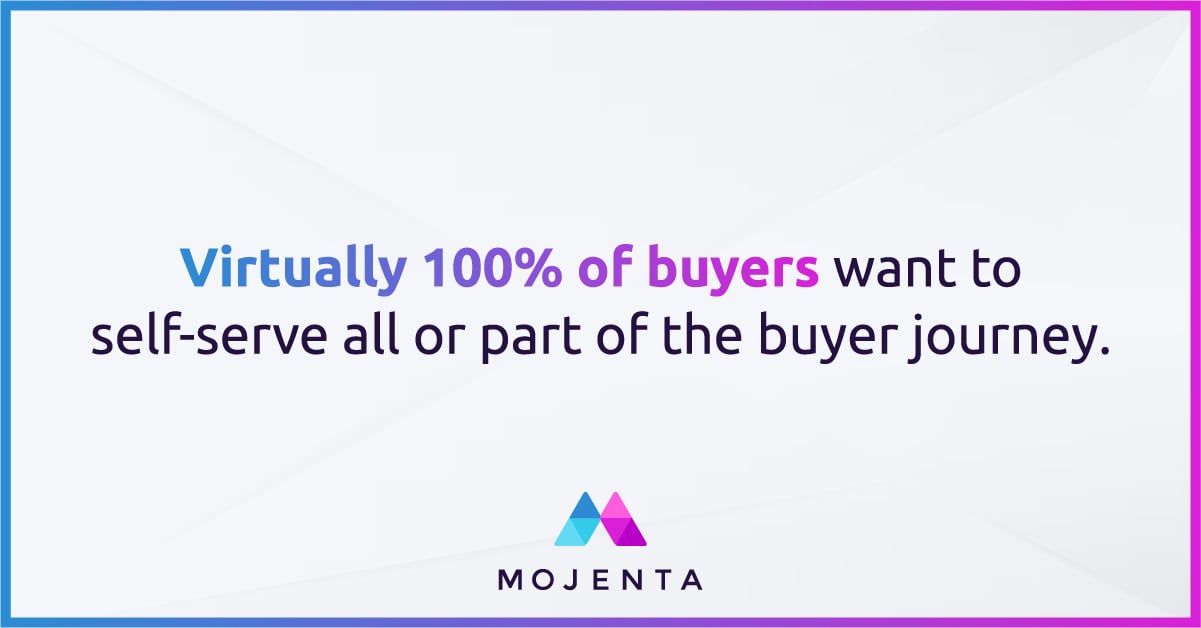 How to Calculate Your Marketing Budget Like a Pro
Still not sure if your business's marketing budget is on track? That's alright! Breaking it all down is easier said than done.
Here are two popular marketing budget models to consider you're feeling stuck or like your budget isn't working:
Marketing Budget as a Percentage of Revenue - If this name sounds familiar, it's because we mentioned it earlier in the blog! This model is the easiest to calculate: you just apply a percentage of your total revenue – typically 6-20%, depending on your company's size, growth goals, and profits – to your marketing budget.
Lifetime Value Ratio - Another commonly used model is the lifetime value (LTV) to cost of acquisition (COA) ratio. Calculate your LTV by multiplying your average monthly revenue per customer by customer lifetime in months, and divide your total sales and marketing expenses by your new customers acquired to get your COA. Target a 3:1 or 4:1 ratio for optimum growth.
Creating a marketing budget (and keeping spending on track) is no easy task. If you'd like to learn more about driving sales and marketing ROI, check out our fourth annual Top B2B Telecom + IT Marketing Predictions webinar.
In it, I dive deeper into insights on this year's marketing and budget trends to help B2B tech businesses create a simple, effective growth strategy.
Watched the webinar but still want more help? The marketing experts at Mojenta have powered the growth of nearly 300 B2B technology companies since 2010.
We can give you hands-on guidance building your marketing budget and implementing strategies that drive results.
Book a consult today to get started.
Sources: