Who's better at selling your product, service, or solution than you?

The answer should be no one – but that isn't always the case. Many telecom and IT companies use an internal sales model to take their services directly to the customer since eliminating the middleman means you get to hold on to 100% of your profits. It also means you get to control the entire sales process, from pricing to customer service to relationship management.

But just as there are superior and inferior telecom solutions, there are good and bad internal sales processes. To get yours right, there are a few things you need to do.
Analyze Your Current Processes
A good practice is to take a look at your internal sales processes and break them down to determine what works – and what doesn't. A few questions to ask yourself:
Who is your ideal buyer? Defining your buyer personas is key for both sales and marketing. If you've had a track record of success in the past with a certain target audience, what made you successful? What is it about your solution that appeals to that persona? And most importantly, how can you tailor your sales process to gain traction with more of that type of buyer?
What is the typical buying process? Consider sales you've made in the past – what moved your prospects down the funnel? If there's a common thread among your success stories, consider how you can replicate and scale it.
What are the biggest holes in your process? If you've lost sales in the past, think about where you went wrong. Sometimes it's just a matter of timing or budget, but if there are factors you can control – product messaging, client communication, scheduled touchpoints – nix anything that's not working and adjust accordingly.
Build Your Sales Process
Once you've identified areas of opportunity for your internal sales process, it's time to outline elements and procedures for each step to ensure sustainable success. Here's what you need to create processes for:
Prospecting
Develop a system for prospecting that ensures the leads that end up in your funnel are well qualified. The easiest and most effective way to do this is to focus on inbound marketing. With inbound marketing, potential customers find you through channels like blogs, search engines, and social media – and because they come to you and not the other way around, these leads are warm.
Cold outreach is another way to find prospects – but the ROI on cold outreach can be hit or miss. If you're going to rely on cold outreach, make sure you:
Customize your messaging
Find an actual contact to reach out to (no info@company.com emails!)
Deliver value
Don't lead with a sales pitch (instant turn-off) – demonstrate how your solution addresses the customer's pain
There are tools available to help automate the process of prospecting – these will be especially helpful if you're starting from ground zero with no contact lists at all. You'll find tools to assist with everything from building your list to finding contact deals and engaging with your prospects. HubSpot has a great one for identifying and tracking prospects – and it happens to be free.
Qualifying
Once you have a system down for prospecting, you can make more effective use of your time by qualifying your leads. There are several lead qualification frameworks you can use that will help determine the likelihood a prospect will turn into a successful customer:
BANT
This framework helps you answer four key questions:

Is your product, solution, or service within the prospect's budget?
Does your contact have the authority to make a decision on a purchase?
Does your solution solve a pain point or meet a need for the prospect?
Is your prospect planning to buy within the right time frame?
ANUM
A variation of BANT, you can determine if you're speaking with the right contact by looking at the prospect's authority

(are they a decision maker?),

need

(does your solution solve the contact's pain?),

urgency

(are they able to buy now?), and

money (is your solution within their budget?).
MEDDIC
Pioneered by Jack Napoli

, MEDDIC asks you to look more deeply at your prospects to achieve an understanding of their entire buying process. An acronym for Metrics, Economic Buyer, Decision Criteria, Decision Process, Identify Pain, Champion, this framework is particularly useful if your product or solution has a very high price point or requires buyers to transform their behavior in some way. MEDDIC is also useful for forecasting accuracy and will help you maintain a more accurate sales pipeline.

Demos & Presentations



Solutions don't always sell themselves. Your well-qualified leads may still need proof of value – so you should have a system in place to demonstrate that value. How you present your offering depends on the nature of what you're selling (services may require a different type of demo than products), but you'll need to ensure your prospects have a clear understanding of:
Your product, solution, or service's features
How your offering specifically solves your prospects' pain points
Pricing structures, including any ongoing subscription or support fees as well as up-front costs
Address any frequently asked questions in your demo or presentation. The fewer questions or doubts they're left with, the more likely they are to buy.
Negotiating
A successful presentation could lead to negotiation, so be prepared with value statements and answers to potential objections.

While much of the negotiation process might center around pricing, it's important to expand the conversation beyond money – especially if you have predetermined pricing for your offering and there is little to no wiggle room. Focus on the value you provide and the pain that you solve for the customer.

Depending on your target buyer persona, you may also have to field a number of technical or legal questions. A CFO, for instance, doesn't always have deep knowledge of cloud communications or networking solutions and may need technology explained in order to make a decision. Know your audience and tailor the level of technical detail to them – nothing loses attention faster than speaking above or below the level your audience can relate to and understand.
Closing
Closing: the moment every sales team waits (and works hard) for. Ensure a smooth process by having templated contracts created – your customer shouldn't have to wait an unreasonable amount of time for you to draw up paperwork.

Make sure you have a clear timeline in place for closing – not just for your customers, but for your sales team as well. This minimizes the likelihood of your sale falling through and makes the process go smoothly for everyone involved.
Evangelize
Relationships are everything. Your internal sales process doesn't stop at closing – you need to continue to provide attentive service and support through implementation (and really, the life of the solution).

Not only does providing top-notch service beyond closing often lead to upselling and cross-selling opportunities, it also builds your reputation as a relationship-based business. Your customers will see you as a trusted partner or advisor – and they'll often be willing to provide testimonials and, even better, generate referral business for you.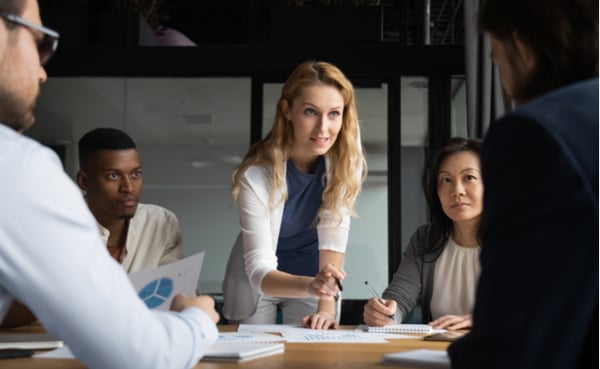 How to Improve Your Process
Once all the elements of your internal sales process are in place, it's important not to grow complacent. There are a few best practices to follow:
Train well and reward compliance. Set your sales team up for success by providing training for all elements of your internal sales process, from prospecting through closing and beyond. Set up incentive programs to reward your sales team's compliance.
Listen to issues and take suggestions. If having a detailed sales process in place is new to your organization, you may need to make tweaks and overcome speed bumps as you go. If your employees experience problems, have feedback, or offer suggestions, it's worth your time to listen and implement change where necessary.
Invest in tools.

If you don't already have a customer relationship management (CRM) solution in place, it's time to invest in one. Automating your sales processes will create efficiencies and make it easier for your team to do their jobs.
Continually monitor your conversion rates and team morale and pay attention to what works about your process. Take time to formally evaluate how it's going at least once a year so that if changes are needed, they can be made before you lose too many opportunities.
An Expert Partner for Marketing and Sales Success



Developing an internal sales process and ensuring it's working well for your business is a major undertaking. Relying on a partner with deep experience in telecom and IT marketing is a great way to ensure your process's success.
Mojenta has powered the growth of nearly 300 B2B technology companies since 2010. We're data-driven and results-focused and can work side-by-side with you to make your marketing and sales programs a success.
Ready to get started with a customized growth plan? Get in touch with us today.