Many telecom marketing leaders have heard of public relations (PR) before and assumed it was synonymous with marketing. The truth is that marketing and PR serve completely different purposes, and their key components are also different. Discover how to take advantage of the difference between PR and marketing to create an overall strategy that drives optimal results.
The Purpose of PR and Marketing
In order to understand the difference between PR and marketing and leverage both to grow your telecom company's space within the industry, you must first understand their purposes.
Though specific telecom marketing goals will vary from one business to another, many common goals include brand awareness, sales, and lead generation, as well as successful promotion of the product or service being sold.
PR is centered around maintaining your business's relationship with the public. Public relations does this in a few ways:
educating potential customers on a product or service, like a new SD-WAN product launch

building a reputation so that customers begin to think of you as the go-to name for business internet

maintaining that reputation so that your brand becomes synonymous with what you do
A common way to educate potential customers on your company's mission is through press releases and promotional material. If a company announces new service availability for business fiber, the PR team would jump in to write a press release on it. You can also connect with other businesses and publications to promote your product within the industry.
Building a reputation through telecom PR initiatives is also important. You can build a reputation by making your brand more visible in the media, generating positive reviews of your product/service, and fighting off any negative press your company may receive. If a company is experiencing a PR crisis, it would be up to that team to communicate with the public in order to diffuse that situation. This may come in the form of televised announcements or even social media explanations.
Overall, it's safe to say that marketing is proactive and public relations is reactive.
Identifying Your PR and Marketing Target Audience
In order to create an effective marketing and PR strategy, it's imperative to consider the target audience first. Once you have defined the target audience, you can build an entire marketing and PR plan around them in order to drive sales and results.
Generally, telecom marketing centers around brand awareness and revenue generation. Marketing is all about attracting and capturing new clients, and guiding that client through the entire buying process. Since there are so many companies within the telecom industry that offer competing services, it is imperative that telecom companies regularly freshen their marketing with the latest trends to give the overall impression of competency. Customers are more likely to gravitate towards brands that not only target them but are trustworthy.
For example, since our telecom marketing efforts are centered around sales and profitability, it's no surprise that the target audience would be the people who drive those sales: the customer. On the other hand, PR is all about keeping your brand in the positive public opinion. When it comes to PR, the target audience isn't just your potential and current customers. Your investors, the media, and even the general public are all targeted by PR initiatives. A good PR strategy is all about maintaining a positive outward image while fighting off bad press and preventing PR disasters.
PR is especially essential when a company has received bad press as it can be almost impossible to bounce back. Just think of the last time another telecom company you know of had a public crisis, and think about where they are today. Where they are today is possibly an indication of how dynamic their PR team is.
How to Measure the Success of PR and Marketing
Another important factor to consider is the key indicators of success in a marketing and PR strategy. Though there may be some overlap between the key performance indicators, ultimately both are needed in order to not only grow your telecom business but to solidify its place within the industry.
Measuring Marketing Success
There are many ways to determine telecom marketing success, but there are some key components that are almost universal to any situation. One common indicator is your sales numbers and whether or not they increased month to month or year to year. Has your team met the goals for the quarter or year, or have they been showing a slow decline over the course of the year? Is there a particular month in which things went downhill, or has it been a steady decline or increase over time? These are the critical questions that need to be asked when looking at the results of a marketing effort.
Success can also be measured by determining whether there has been an overall return of investment. A relevant example would be social media ads. If you can see that your ads on your new UCaaS offering aren't giving you the engagement or conversions you were hoping for, maybe it's time to consider an alternative way to promote this service or to even begin promoting another service in its place.
Lastly, you can measure your marketing team's success by checking out your client's social media accounts. Here, you can see the direct impact your marketing strategy has had on your following. By monitoring followers, likes, and inquiries via social media, you can determine whether or not the general interest and awareness of your brand is increasing.
Measuring PR Success
Brand awareness is also a significant indicator of PR success. Start by evaluating how much exposure your brand has gained over time. Coverage within top industry publications adds significant heft to your ability to gain and maintain a positive public image. Just a guest post, or even a mention, can boost your company's public image tremendously.
You can also apply this to speaking appearances at high level industry events. Centering yourself as a thought leader on your products and services is imperative to staying relevant and popular, and publications and speaking opportunities increase that likelihood.
Another opportunity to gain positive press comes in the form of awards. Awards are unique in the way that they can be more memorable than any of the other opportunities mentioned above. Once you have won a high level award, you can display it on your website or use it as a selling point for many years to come. It can also help increase legitimacy in prospective customer's minds, as they now know that your company has been recognized by a legitimate organization.
PR and Marketing: The Merging of the Two
Now that we understand the difference between PR and marketing, I can point out why it's so important to combine the two for an unstoppable strategy. A good way to think about it is that marketing attracts a potential customer to your product or service, and positive PR can help you attract new clients on your reputation alone. PR also serves as a direct response to customer feedback, making it an essential part of goal tracking and keeping your sales numbers top notch.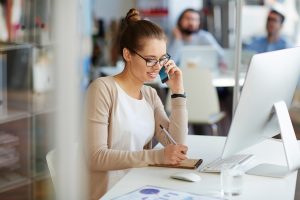 The power of Google is a real thing these days, and it can take less than 30 seconds for a potential customer to run a search on your company and find out everything there is to know. As mentioned previously, a PR disaster can be difficult to recover from – and if it's right there in a simple search, it could be game over. In order for you to flex your telecom marketing muscle and really draw in new customers, you need to have the reputation to back it up.
Another way to think about PR is that it is the essential tool to getting your company the exposure it needs to gather potential customers. Marketing alone can't speak to your customers the way PR can, as the latter has a way of telling a story about your organization's background and company culture. In such a crowded industry, PR can truly impact your customer's decision to work with you over your competitors.
As you can see, there are many differences between PR and marketing, but ultimately, you need both in order to drive the best results for your company. Any marketing strategy is incomplete without public relations, and vice versa. Now that you understand the difference between PR and marketing, you may be inspired to rethink your strategy for the new year. If you need help establishing your telecom marketing or PR plan in 2019, reach out today!