When it comes to lead generation and brand awareness on social media, many businesses struggle with which networks to focus on and how much time to invest. For those in B2B, no network makes more sense to invest time in than LinkedIn. Though less flashy than other social networks, LinkedIn can be a major source of potential leads, interactions, and opportunities to network with colleagues and clients.
94% of B2B marketers on LinkedIn use the platform to publish or share content, and there are over 9 billion impressions in LinkedIn feeds every week. While other social networks make you start fresh if you are new to using social for your business, LinkedIn allows you to take advantage of your existing professional network to make—and engage with—connections.
New Ways to Network
LinkedIn's latest round of changes took effect on June 7th, 2017 and they detailed the changes in their privacy policy. The changes are rolling out over time rather than being released all at once, so you may not notice them initially.
The first change is that LinkedIn can now share your profile information with third party services such as "Outlook and Yahoo Mail, Calendar or Contacts, Apple and Samsung native mail, contacts and calendar phone apps, Cortana, Evernote," etc.
If you're worried about privacy, you can easily opt-out of this service. However, opting-in to these changes can open up new opportunities for exposure of your LinkedIn account. For example, while emailing with a client or prospect, an opted-in user could link their LinkedIn account with their email account and utilize information beyond the Public Profile such as connections, shared connections, and contact info. Putting your LinkedIn account front and center will help drive leads toward your account, business page, and any content that you are sharing.
"Productivity Bots" and Enhanced Messaging
Artificial Intelligence (AI) is a hot topic in tech industries, and LinkedIn has made efforts to stay up to date with some practical uses for AI. As a LinkedIn Premium user, you can opt in or out of "productivity bots" that will automate your messaging in a variety of ways. There are "smart reply" and emoji suggestions based on the punctuation and context of a message you've received or text you've typed. This can help you reply to messages more quickly if you're frequently engaging on LinkedIn.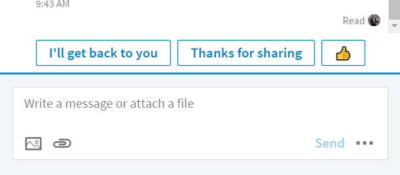 Other enhancements to messenger include previews of links embedded in messages, making them more likely to be clicked if they have an appealing visual. The messenger will also check links for malicious sites and blacklisted keywords (spam) and warn you if any are detected. Additionally, any members or companies that you mention in messages will be turned into a link to that person's — or business's — page.
Finally, a few basic but handy improvements. When typing an addressee's name, autocomplete suggestions will pop up from among your 1st connections. Also, Messenger will now look for weekdays and dates mentioned in chats and will suggest creating calendar entries based on those mentions.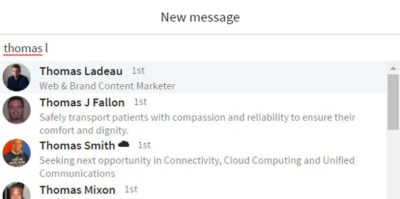 The Future of Lead Generation
In this latest announcement, LinkedIn also mentioned an upcoming feature targeted towards in-person event networking. You will be able to turn on a feature to find nearby members, potentially beyond your list of 1st connections. This feature, if adopted en masse among expo or conference attendees, would be a powerful tool for discovering new people to connect with and lead generation. Since privacy could be a concern, this feature would require opting-in as well as setting an amount of time to remain enabled before automatically shutting off.
All in all, these new features enhance an already powerful social network for B2B engagement and lead generation. LinkedIn allows you to take a more strategic approach to engaging with your professional network, and with these latest changes, LinkedIn is poised to continue that trend.
If you have questions about getting social in the B2B world, reach out to us to find out what a powerful social strategy can do for your business.