Your business's brand identity can win customers or scare them away – yet we see way too many MSPs overlook branding.
Branding is the process of creating your company's brand identity. It involves developing elements – such as your logo, visual design, messaging, and mission statement – that work together to help buyers recognize your brand. Consistent branding can increase revenue by up to 20%1 simply by keeping your business top-of-mind for potential customers.
But while 85% of organizations have brand guidelines, only 30% consistently enforce their branding guidelines.2 If your messaging, visuals, or voice varies across the many touchpoints your prospects will encounter along the buyer journey, it can lead to confusion and, worst of all, a lack of memorability.
In this blog, we'll guide you through how MSP branding can help your business build a stellar reputation that attracts (and retains) more right-fit customers.
Having a Strong MSP Brand Builds Trust
Strong branding builds credibility with your prospects – a must, considering 81% of consumers say they only buy from brands they trust.3 By developing a consistent brand for your MSP, you can convey professionalism and reliability to potential customers, even before they've made a purchase.
However, delivering on your promises is essential here. 65% of consumers stop buying from a business when the customer experience doesn't match what the brand's image promised.4 Make sure to establish a reputation for following through so that if a customer has a one-off negative interaction, they'll know it's not how your business typically operates.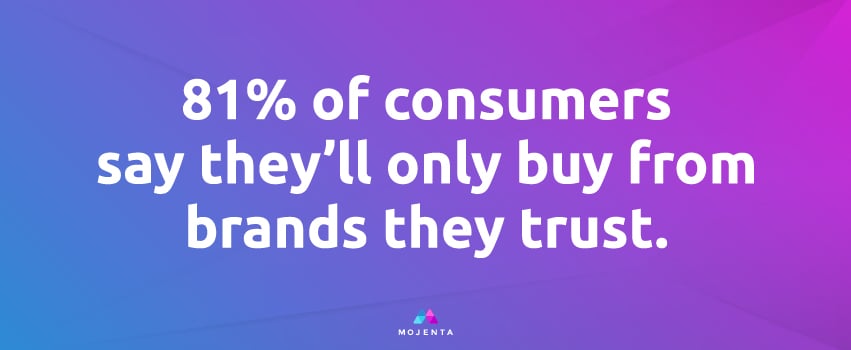 Branding Your MSP Matters to Today's B2B Decision-Makers
Millennials make 73% of all B2B buying decisions5 – but what does that have to do with your brand? A lot, as it turns out. In 2022, 80% of millennials purchased a product or service because it came from a trusted brand name.6
Winning over this particular generation isn't as easy as pulling an aesthetically-pleasing brand together, though. According to 90% of millennials, brand authenticity is essential when making a purchase.7 You can show potential customers that your values are authentic with consistent branding.
More Benefits of Branding Your MSP
Branding benefits MSPs beyond building trust with B2B buyers. A few other advantages of developing a solid brand for your business include:
MSP Differentiation
We don't have to tell you that the IT services industry is saturated with businesses vying for your target audience's attention. Having a compelling brand identity sets your company apart from the competition and can help you highlight your unique value propositions.
Market Positioning
A strong brand allows MSPs to position themselves more strategically in the market. By aligning your brand messaging, values, and offerings with your target audience, you'll have an easier time establishing your business as the de facto expert in your field and attracting right-fit clients.
Loyalty
When an existing customer is loyal to a brand, they purchase 90% more often than new customers.8 Brand loyalty goes beyond consumers recognizing your business name – it's about shared values, trust, and positive experiences. By developing authentic branding and committing to it, you can build a network of customers who double as advocates and supporters.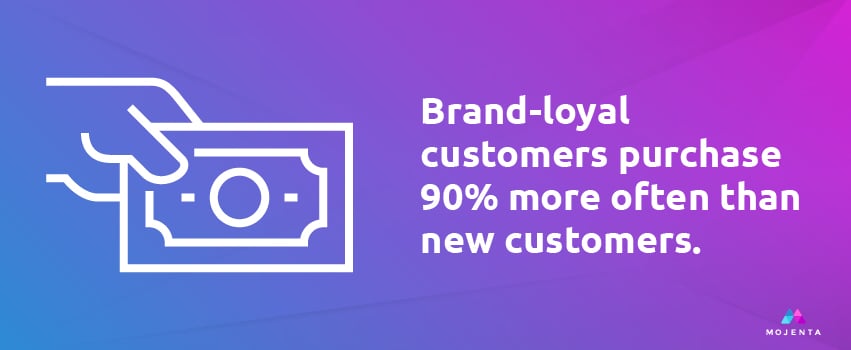 Value Perception
Having a strong brand allows MSPs to command a premium for their services. If your brand has a reputation for quality and exceptional service, prospects will pay a higher price for the perceived value they expect to receive. And that's backed by data – a 2022 survey found that 46% of U.S. consumers are willing to pay more when purchasing from a brand they trust.9
Employee Support
Strong branding doesn't just appeal to prospects – it can also help you attract and retain staff. Skilled IT professionals typically want to work for an MSP that has a positive brand image and values that align with their own. Plus, branding that resonates with your employees fosters a sense of pride and loyalty.
Elevate Your MSP Branding With Mojenta
Brand elements alone won't hold a potential customer's attention for long. A competitor with a recognizable brand identity will often win over customers, even if your product or services are better. So if you're struggling to attract new clients or retain existing ones, it's likely time to start building strong branding that earns trust and delivers on promises.
Ready to elevate your brand? Mojenta's marketing experts can help you create memorable branding that connects with your target audience, from messaging and positioning to brand image and beyond. Book a consult today to get started.
Sources:
https://www.statista.com/statistics/1384112/consumers-who-buy-products-due-to-brand-trust-by-generation-usa
https://www.forbes.com/sites/jiawertz/2022/11/29/brand-authenticity-is-key-in-advertising-strategies