If you're a frequent LinkedIn user, you may have noticed a new popup in your feed lately suggesting you choose hashtags to follow. LinkedIn is currently testing this feature with a limited number of users.
As of June 2018, LinkedIn had the following message in their Help Center:
Important: Managing and discovering hashtags on LinkedIn are part of a test and are not yet available to all LinkedIn members.

We are exploring new ways to help our members discover and join conversations on LinkedIn based on common topics and interests.
Get a jump on how to make the most of following hashtags on LinkedIn before the feature is rolled out to everyone.
How to follow hashtags on LinkedIn
1. Go to Your Communities on your news feed in the left sidebar.
2. Search for topics using the hashtag symbol (#).
3. Select hashtags to follow.
As LinkedIn stated, only some LinkedIn users will have the option to customize their feed. This option appears as a "Communities" button on the bottom of the left sidebar of the news feed.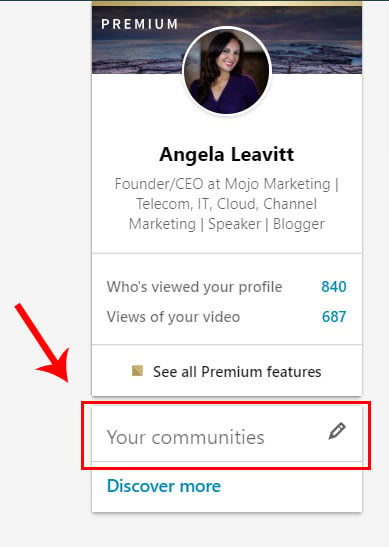 If this button isn't there for you, you aren't one of the select LinkedIn accounts with the ability to test this feature. LinkedIn gives no information on who does or doesn't have this feature. One can reasonably guess LinkedIn gives priority to LinkedIn Premium subscribers who have a good number of followers.
After clicking on the Communities button, you should see a popup.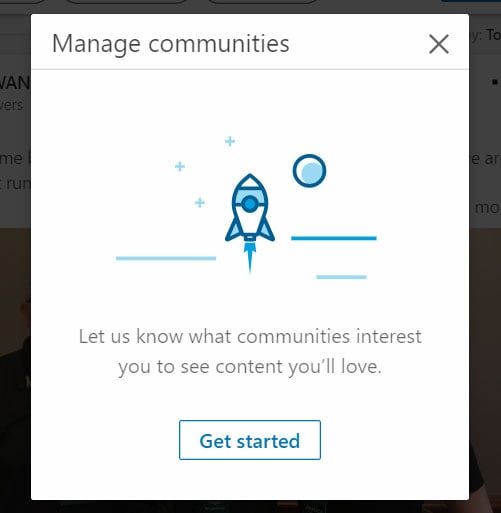 Clicking 'Get Started' leads you to a long list of topics.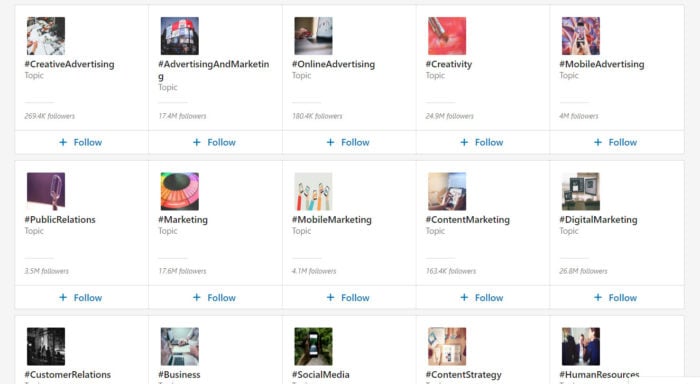 You can also search for hashtags using the standard search bar.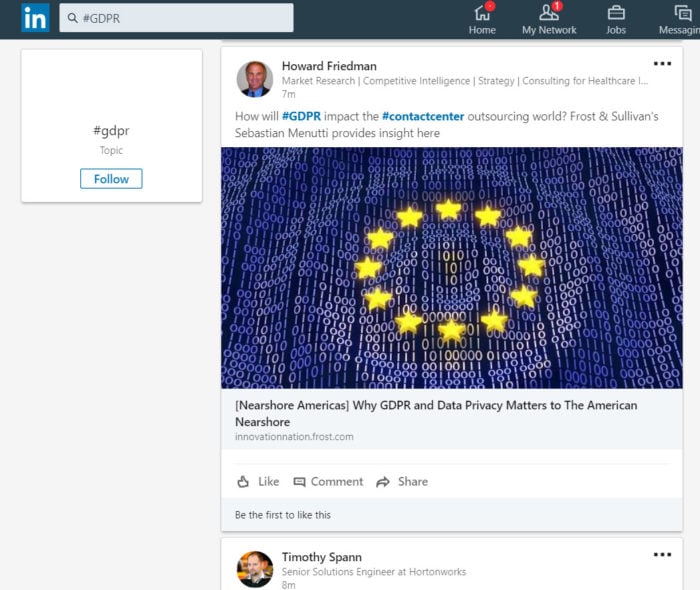 Topics aren't an entirely new feature on LinkedIn. What's new is that topics have been turned into hashtags.
Why you should follow hashtags on LinkedIn
Expand your reach and track key topics
Turning topics into hashtags makes them more versatile and useful for LinkedIn users. As on any platform, hashtags let you put your content into categories to help it be discovered by more people. This gives users more power to contribute to large scale topics like 'marketing' or 'telecom'. Adding a hashtag to your posts expands the reach of your posts beyond your connections.
At the same time, you can follow a custom hashtag or niche topic. If you've created a hashtag for an event or campaign, you can follow that hashtag to see any activity on that hashtag, whether it's your own or not. If you're interested in a more niche topic like a particular business technology or industry, you can follow that hashtag even though it is not in LinkedIn's suggested list.
Track competitors and search for leads
If your industry is fairly active on LinkedIn, you can get more strategic with which hashtags you follow. For example, if a competitor has a campaign going or simply posts with certain hashtags a lot, follow that hashtag to stay informed about what they are posting.
You can also use hashtags as a method of searching. Following a hashtag will let you see more posts from people beyond your immediate connections. Follow the right hashtag, and you may see more content from potential leads.
Establish a presence in your most relevant hashtag
Since following LinkedIn hashtags is still in development, find a hashtag you want to have a presence in and focus your posts on that hashtag. For example, if you sell telecom marketing services, consider adding '#telecommarketing' to your relevant posts. That way, if the 'follow hashtags' feature becomes mainstream, you will already have a presence in the hashtag. Any new followers of #telecommarketing will be more likely to see your posts.
You can also aim for more of a presence in broader topics like 'Internet of Things' or 'Telecom'. While you will have more competition in these broader topics, posting high quality content using these hashtags regularly may push your content to the top. Plus, you can follow the hashtag #IoT or #telecom to see what posts are getting the most action, and adjust your content to be competitive.
Always be testing
The follow hashtags feature on LinkedIn is still in development. We will update this post with any new information from LinkedIn. For now, if you have access to the Manage Communities feature, test it out using the tips in this guide to see if following hashtags can be strategic for you.