Telecom and IT professionals: we know you have your hands full right now. This pandemic has caused your customers to clamor for your expertise and bombard you with questions and requests – from basic technical fixes to urgent and complex, strategic overhauls.
And if you are like most in the telecom industry, you have a lot of questions about how to adjust your marketing during COVID-19.
Here are a few of the most common questions we've been fielding:
What should I do with the budget I had allocated to events and travel?
How am I going to generate leads now that events are cancelled?
I may need to reduce expenses. Where should I start?
How should I shift my growth strategy to address the changes in the economy?
How have companies navigated crises like this in the past?
What should I be doing with the temporary "down time"?
To help you answer these questions, we've compiled some resources for you here. We will continuously update this page as new research becomes available, so feel free to add a bookmark and refer back periodically.
For starters, if you haven't read Jay McBain's analysis of what the COVID-19 crisis means for the technology channel, it's worth a read.
First, Some Good News: You CAN Thrive in an Unstable Economy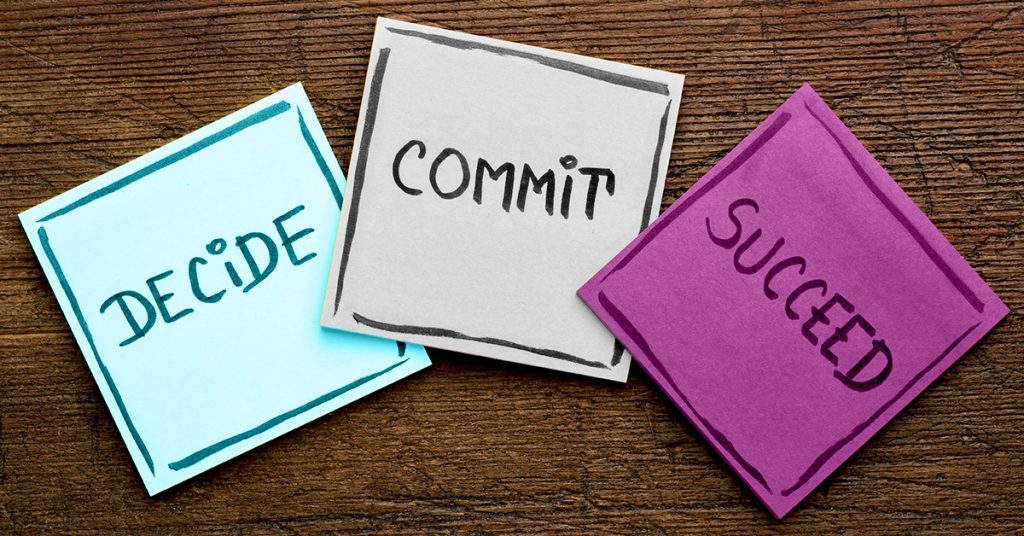 Economies are cyclical in nature, and success is found in both high and low points. Luckily, we can look back in time to similar situations and observe what astute companies did to take advantage of economic downturns. Here are just a few examples from Business 2 Community.
In 1991 the shock of immense oil price increases led to a loss of jobs and – for some brands – a loss of confidence in the economy and the effects of advertising. Brands that cut advertising saw sales decrease by +25%. Brands that increased advertising saw better-than-comparable sales increases in the +40% to 60% range.
The SARS crisis (Severe Acute Respiratory Syndrome) in 2002 and 2003 cost the world economy $40 billion. The disease infected the global economy related to business and leisure travelers dramatically. Tourism and entertainment – even the cosmetic category – took a beating. Companies that supported their brands saw sales increases of 28% to 35%.
In the aftermath of the financial collapse of 2008 and the massive recession that followed, overall brand support dropped nearly 15%. Brands that increased their brand efforts saw sales grow upwards of 30%.
Long story short: while some telecom companies will be tempted to reduce or pause marketing during COVID-19, others will use the opportunity to gain market share and outshine their competition.
Tips for Growth in a Down Market
So yes – it is possible to grow your business in the current climate. As previous crises have proven, smart businesses refocus their efforts on intelligent marketing strategy in order to outshine the competition in dark times. I recently had the opportunity to present virtually on the topic of growth hacking at Cloud Conventions. I talked about the strategies that won't just keep your business afloat right now – these actionable ideas will actually help your business grow:
Embrace buyer enablement through asset development.
Focus on market development and cement thought leadership.
Align sales and marketing, and secure effective technology stacks for better operational efficiency.
What to Do With That Trade-Show Budget?
The telecom and IT world has its perennial get-togethers that are now off the calendar. This resource has some data about what some B2B companies plan to do with the budget that would have gone toward shows. See the image below: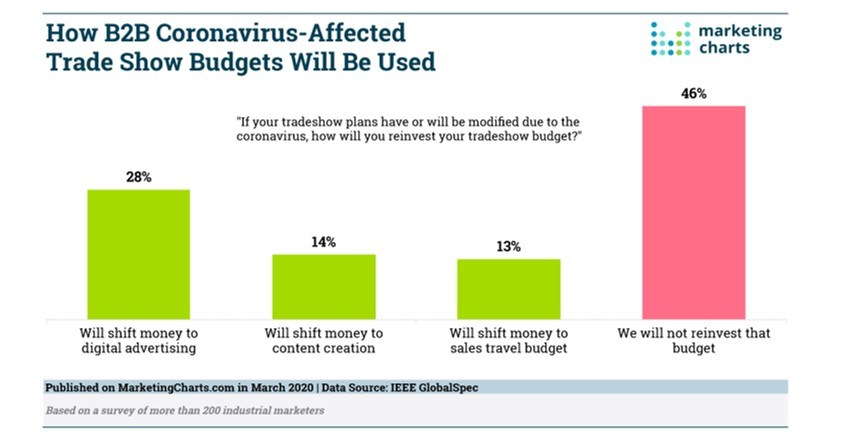 Check out the tips in this Forbes piece about what to do when your trade show is cancelled. The recommendations are around embracing digital events, mastering digital storytelling, and accelerating ABM-based communications.
Why B2B Brands Are Investing in Digital During the Coronavirus Outbreak. This article points out three major items to focus on when investing in digital:
When it comes to new customer or client acquisition, the first and most important thing is your website and online presence. Having a strong presence signals that you are a trustworthy entity that understands the importance of technology in today's digital landscape.
Investing in content and SEO is the next thing you should do if you want users to find your website and become qualified leads for your business.
Having a brand message that is based on research and aligns with your customers will help with acquisition and retention – especially in times of uncertainty.
Data from Coronavirus and Marketing Statistics 2020 by Wyzowl goes into how the COVID-19 outbreak will impact marketing budgets. The survey showed that "video (31%), paid ads (31%), and broadcast (28%) are all expected to ride the crest of a new digital boom."
What Should You Do With Your Brand During COVID-19
Here's why you should keep advertising and marketing your brand during COVID-19. "Brands able meet consumer expectations and resonate with the changed values consumers actually revere right now will see long-term boosts in consumer engagement, loyalty, sales, market share, and profits. That means brands need to adapt. That means brands need to identify new strategies to accommodate a vastly changed marketplace. That's marketing history too."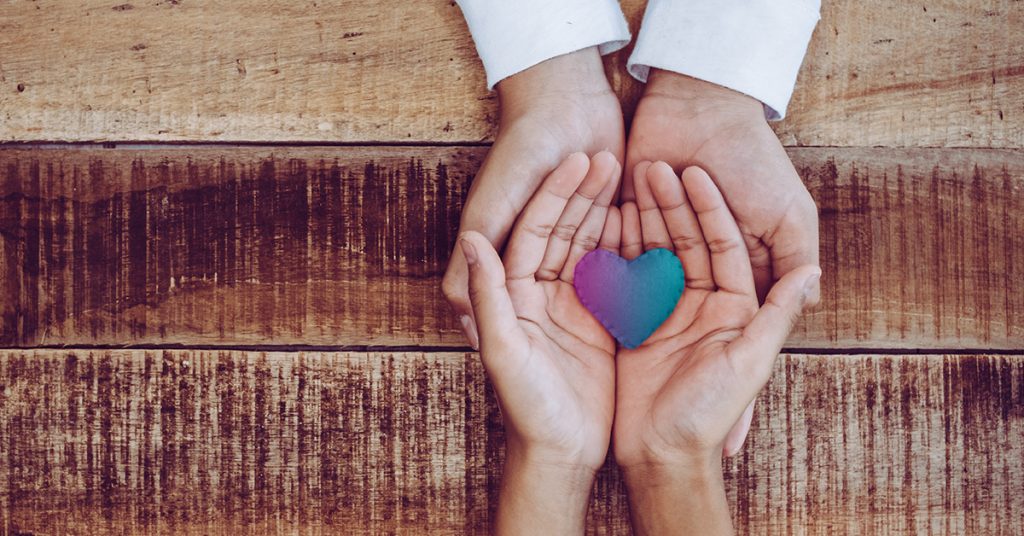 Think long-term during the COVID-19 crisis because short-termism will hurt your brand. "Longer-term tactics attack the problem from a different angle, aiming to generate brand preference from a wider pool of prospects – often by building an emotional connection to the brand. These attempts at emotional priming aim to make a brand famous, generating broader but slower effects, and with bigger paybacks."
Tips for Marketing During COVID-19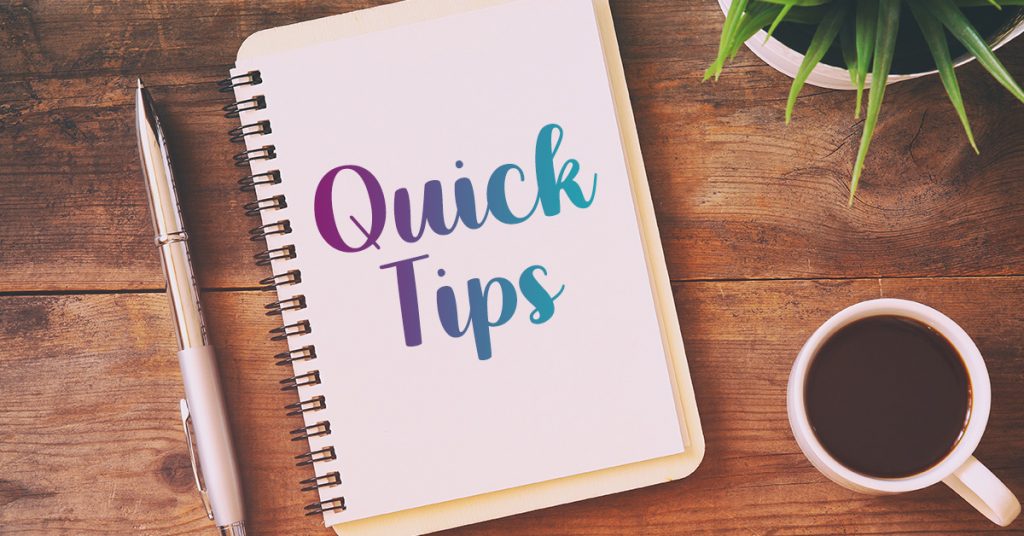 BKA Content explores some basic, quick, foundational recommendations such as:
Reach out to your customers
Perform a mini-audit of your content assets
Make sure customers can find you online
Update your website
Gartner's "Adapt Your Marketing Strategy for Covid–19" goes more in-depth and offers some smart recommendations about truly listening to your customers:
Listen for changes in customer sentiment and behavior. "Listen. Now more than ever, it's important to know what customers feel and do, and why. Set voice of the customer (VoC) programs to listen for references to COVID-19 or other shifts. Use social listening to monitor customer discussions about health concerns or information needs relevant to your brand. Ask sales and account management teams what they hear from the front lines. Monitor customer care emails, phone calls and service chats for changes in concerns or sentiment."
Anticipate operational impacts. "Optimize the marketing budget. All organizational functions will be called on to prioritize spending. Try to avoid across-the-board cuts. Look instead for ways to drive efficiency (for example, by looking for overlap in agency or marketing technology contracts), and to reduce or postpone obligations that won't bring value — and may even come off as tone-deaf — in the current environment."
Adapt the marketing plan. "Don't wait until an event is canceled to develop a plan. Learn instead from the experience of HIMSS20, a health IT conference usually held in early March: The organization canceled and promised to hold a virtual event at some point in the future; one day later, 1upHealth announced its own virtual event for the following week."
Talk CMO offers even more practical pieces of advice such as ensuring your website is optimized for mobile conversions since mobile traffic will increase.
If you have any remaining questions about marketing during COVID-19, Mojenta is here to help. Contact us anytime. Stay safe and healthy!