At Mojenta, we each have it high on our list of priorities to learn and improve every day so that we can help our clients do the same. From business podcasts to books and long blogs, we love learning about best practices, self-development, and more.
When we realized we all had different favorite reads – each with a theme that has helped us personally in the professional world – we decided to share our list of top business books with you. Take a look at the list below for some of our favorites:
7 Habits of Highly Effective People, by Stephen Covey
In this book, Stephen Covey outlines 7 simple yet highly effective habits that can shape the effectiveness of our efforts, both personally and professionally. The idea is that by creating habits that clearly support our end goals, you can become more effective without sacrificing time and energy. What I love about this book is that each of these habits can help improve how we perform in various aspects of our lives. – Andrea Lakier, Digital Marketing Manager
Atomic Habits: An Easy & Proven Way to Build Good Habits & Break Bad Ones, by James Clear
I've always believed that our results (good or bad) are primarily a result of our habits, so this is a topic that fascinates me. James does a great job of explaining the brain science behind habit formation and gives many innovative tips and resources for improving habits. – Angela Leavitt, Founder and CEO
Drive: The Surprising Truth About What Motivates Us, by Daniel Pink
The classic methods that people have employed in the past to motivate employees, children, peers, and more are less effective than you think. This book was eye-opening and emphasized the importance of intrinsic motivation from within. – Justine Dolorfino-Thieman, Head of Customer Success
Ego Is The Enemy, by Ryan Holiday
I was interested in learning more from his writing, as Ryan was the former director of marketing at American Apparel. When I found out Ryan was an Austin, TX resident at the same time I was, this created an immediate need to pick up his work. Ego Is The Enemy is the first Ryan Holiday book I read, and it did not disappoint. The way he integrates stoicism and historical leaders to illustrate egotism is genius. A must read for any person in a leadership position! – Justin Ruszkowski, Client Strategist
The E-Myth Revisited: Why Most Small Businesses Don't Work and What to Do About It, by Michael Gerber
Most businesses are born out of an 'entrepreneurial seizure.' This is when someone with a skill decides to build a business around that skill. The E-myth explains that your technical skill and building a business to provide that skill are two very different things. Not to fear, Michael provides a roadmap for building systems and processes into your business so you can 'work on your business and not in your business.' – Angela
Fearless at Work: Achieve Your Potential by Transforming Small Moments Into Big Outcomes, by Molly Fletcher
As a fellow Michigan State Spartan, I was automatically drawn to learn more about Molly Fletcher. As an athlete, I appreciate her comparisons of sports and business. She's worked with numerous big name athletes and coaches throughout her career, giving so much insight into winning mindsets. Fearless at Work is all about mindset and attitude and practicing the fundamentals that lead to big impacts. – Justin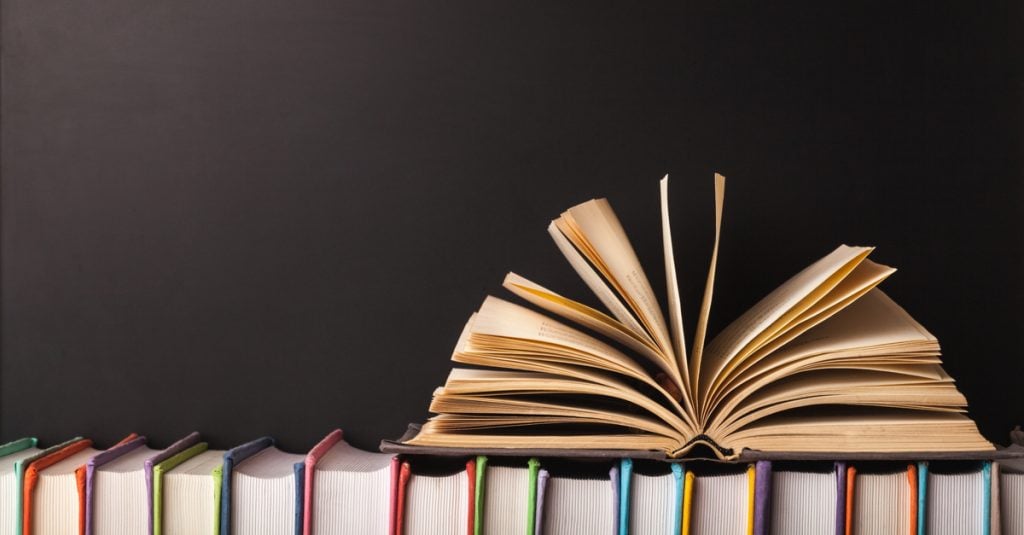 Good Authority: How to Become the Leader Your Team Is Waiting For, by Jonathan Raymond
This is an easy read that, similar to Drive, emphasizes how human connection influences the way we relate to our peers, superiors, and those we manage. It truly shows how to live and lead by example. – Justine
Good to Great: Why Some Companies Make the Leap…and Others Don't, by James C. Collins
This book follows some of the greatest company successes and failures of the last century, and then gives exercises and models for success. My favorite is the Flywheel concept where you determine the parts of your wheel that would lead to inevitable growth. – Angela
Never Split the Difference: Negotiating As If Your Life Depended on It, by Chris Voss
The author is a former hostage negotiator for the FBI and provides negotiation methods you can use at home, at work, or anywhere in between. He reveals that certain tactics, approaches, and phrases – mixed with emotional intelligence – can steer negotiations in your favor no matter your opponent. – Juliana Kenny, Content & Branding
Outer Order, Inner Calm: Declutter and Organize to Make More Room for Happiness, by Gretchen Rubin
I really do believe that if your surroundings are peaceful, the approach you bring to your day will be peaceful, too. I love that this book also understands that 'peaceful' means different things to many people, instead of a one-size-fits-all approach. – Justine
Presence: Bringing Your Boldest Self to Your Biggest Challenges, by Amy Cuddy
You might know Amy Cuddy from a Ted Talk about "power poses." She's a Harvard professor that studies the power of body language, behavior, and mindset correlation. The smallest shifts in our daily lives can have the biggest positive impacts on our future. – Justin
Shoe Dog: A Memoir by the Creator of NIKE, by Phil Knight
I could not put this book down. The story of Phil Knight and NIKE is incredible. As an entrepreneur, I was fascinated to learn about NIKE's genesis. As an athlete, I loved learning about how the brand was built. As a business professional, it's incredible to see the results. Even if you're none of the above it's a fascinating story. Pick up the book! "Just Do It." – Justin
If any of those books aren't on your list, be sure to add them. For us, they've been game-changers! What are your favorite books? Any stand-outs that have helped you in your career? Share them with us on Twitter, Facebook, or LinkedIn!