Every B2B marketer wants to move leads down the marketing funnel, but the process isn't always as easy as some online guides might have you believe. Between identifying which stage your contacts are at and sending the right content to push them toward buying, there are so many ways to get lost in your funnel.
Luckily, marketers have handy tools like customer relationship management (CRM) platforms and workflow automation to advance contacts through each lifecycle stage.
What's a lifecycle stage, you might ask? Lifecycle stages help you categorize contacts based on where they are in your marketing and sales process. You can use these stages to track how contacts move through your marketing funnel and ultimately convert (or fail to convert).
In this blog, we'll walk through each lifecycle stage and share best practices to move your contacts further down the funnel.
What Are the Lifecycle Stages of a Digital Marketing Funnel?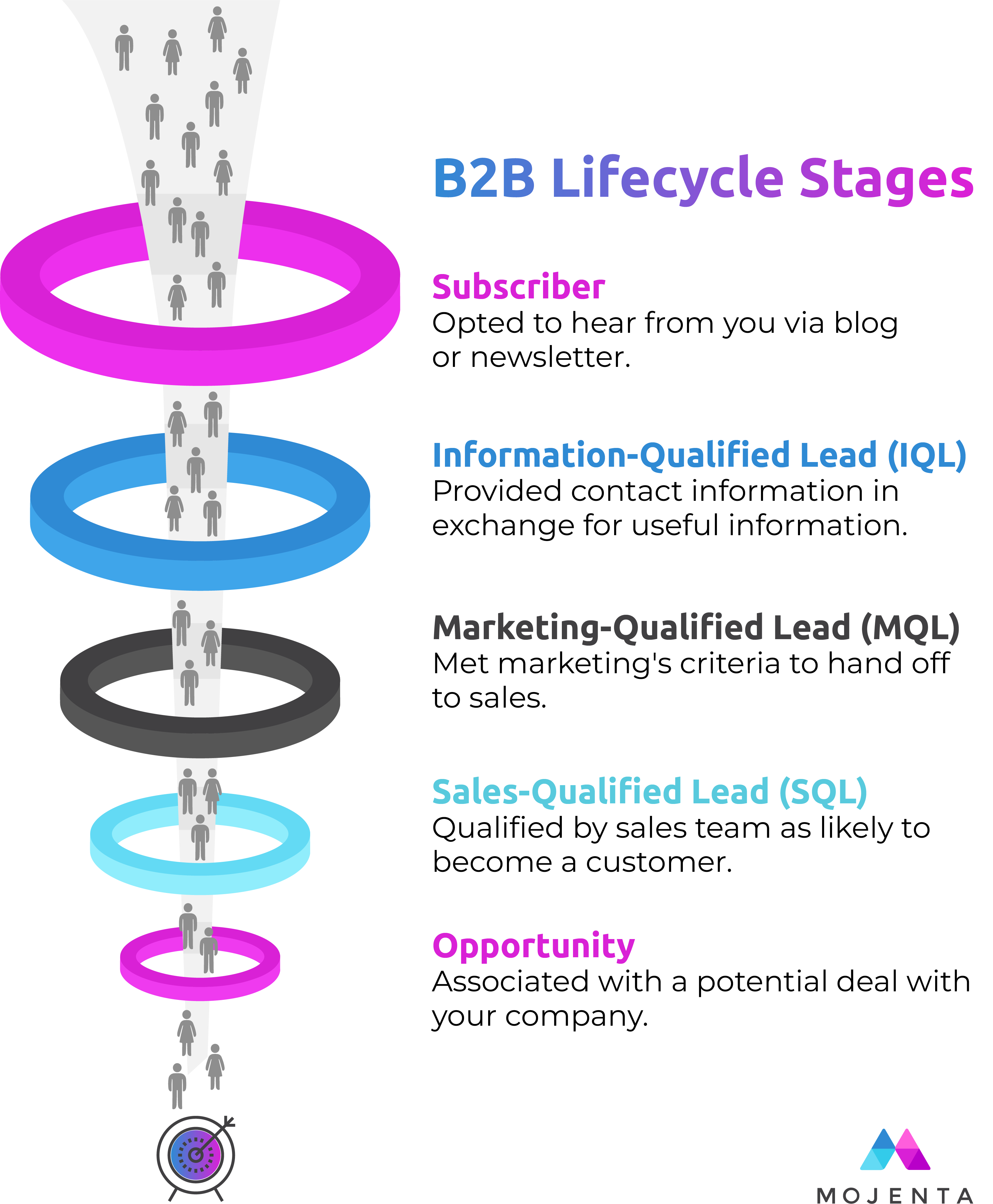 While different CRMs or workflow automation tools might have their own terms, most digital marketing funnels are made up of a few standard lifecycle stages. These include:
Subscriber
Subscribers are contacts that have subscribed to your blog or newsletter. They sit at the top of your funnel and have opted to hear from you, but that's it. Subscribers are interested in educational resources that align with the awareness stage of the buyer's journey (i.e., blogs or other content that helps them understand the problem they're facing).
Once a subscriber interacts with your company beyond a simple sign-up – such as filling out a form to download gated content – they officially become a lead.
Information-Qualified Lead (IQL)
An information-qualified lead (IQL) is a lead that provides their contact information in exchange for useful information, like a gated white paper. Create lead nurture campaigns to offer IQLs more opportunities to learn about your business and how you can help solve their problem.
If you successfully pique an IQL's interest and they proceed to download product information or contact your sales team, they become a marketing-qualified lead (MQL).
Marketing-Qualified Lead (MQL)
Every company defines MQLs differently, but they're generally identified as leads your marketing team has deemed ready to hand off to the sales team for further qualification. Marketers can guide an MQL to the decision stage by offering incentives like free trials, demos, and consultations.
Once an MQL has been qualified as a potential customer by your sales team, they've moved on to the sales-qualified lead (SQL) stage.
Sales-Qualified Lead (SQL)
An SQL is a lead your sales team has qualified and accepted as likely to become a customer. Since these leads are interested in your company, you can help get them over the hump with incentives like discounts, free trials, and demos – and stay top-of-mind with retargeting ads that appear on key channels like Google and social media.
Once an SQL has spoken with your sales team and represents a viable sales opportunity, they become, you guessed it, an opportunity.
Opportunity
An opportunity is a contact associated with a deal – as in, they're involved in a potential deal with your company. Typically, they've agreed to a specific milestone in your sales process, like a meeting or presentation. The sales team does a lot of the work in engaging opportunities, but marketers can help push the sale through by sharing social proof like testimonials and case studies.
After your sales team closes a deal, the opportunity becomes a customer (time to celebrate!).
Current Customer
A current customer is a contact with at least one closed deal. They've finally reached the bottom of the funnel, but that doesn't mean you're done marketing to them. 93% of buyers are more likely to buy again from companies that provide excellent customer service.1 Nurture customers with onboarding materials, company updates, discounts or other perks, and new service or product offerings.
Additional Marketing Lifecycle Stages
A few lifecycle stages sit outside the standard digital marketing funnel, but you should still be aware of them. These include:
Evangelist
An evangelist is a customer that has advocated on behalf of your company. You can leverage these active fans to help grow your brand by gathering testimonials (or offering incentives like discounts for sharing a testimonial). Cultivate loyalty by including evangelists in marketing for events or webinars your company is participating in, referral programs for bringing in new customers, or social media posts featuring their company.
Former Customer
A former customer is a contact who closed a deal with your company but hasn't taken further action. They aren't a repeat customer or an evangelist. However, you can still potentially get them back into the marketing funnel with targeted content that appeals to other pain points they might encounter.
Disqualified (DQ)
A disqualified (DQ) lead is a contact that your sales team has deemed unfit for a deal (e.g. due to budget or fit) or has indicated they have no interest in purchasing from your company.
Vendor
Vendors are providers or companies that you purchase from. Often, these contacts are unsuitable for marketing purposes but can be included in campaigns for events.
Partner
If you have a partner program, you should keep partners engaged with marketing content like company updates, new offerings, webinars, and informational guides. The goal here is to encourage partners to make more sales, so offer resources that can help them better understand and sell your services.
Important Terminology
Lead
A lead is a contact that has interacted with your company beyond a subscription, such as downloading a gated resource from your website.
Prospect
A prospect is a potential customer. Prospects have already been qualified by your sales team (but haven't quite reached the opportunity stage), whereas leads may not be fully qualified yet.
Deal
A deal typically describes an opportunity to sell your service, solution, or product.
Rock Your Digital Marketing Funnel With Mojenta
Your marketing funnel might look a little different than another company's funnel, and that's okay. Marketing funnels are meant to help you guide your contacts through the buyer's journey, which is why understanding your customers is key to making your funnel work for your business.
A couple of reminders to keep in mind when automating your workflows:
Be sure to always track the date each contact enters a new lifecycle stage.

Use segmented lists by lifecycle stage and buyer persona to

reach the right contacts with the right message at the right time

.
If you have any questions about marketing lifestyle stages or how to optimize your marketing funnel, Mojenta can help. Contact our experts today to schedule a time to chat.
Sources:
1. https://blog.hubspot.com/service/customer-acquisition-study