We've seen a massive change in buying behaviors over the past few years. The shift from brick-and-mortar stores to e-commerce is nothing new, but COVID-19 pushed more customers – B2C and B2B alike – to embrace online shopping. A 2022 survey found that virtually 100% of consumers want to self-serve all or part of the buyer journey, up 13% from 2021.1 If you're not making digital self-service easy for your customers, it's time to get on board.
Read on to learn why digital self-service is a must for giving B2B buyers the autonomy they want (and expect!) and how to implement self-service offerings that get results.
What Is Digital Self-Service?
Digital self-service enables buyers to interact with a business without human interaction. The goal of digital self-service is to give customers a convenient, easy way to access information and support on their own terms. The most common types of digital self-service in the B2B buyer journey include:
FAQs
Chatbots
On-demand training
Customer support portals
Why Is Digital Self-Service Important?
For many of today's consumers, digital self-service options aren't a perk – they're expected. And self-service isn't just for younger buyers, either. While it's no surprise that most millennials and Gen Z'ers prefer using digital channels when interacting with a business, 48% of boomers and 38% of Gen X would also rather resolve an issue without contacting customer service.2
Here are a few advantages of integrating digital self-service into your B2B marketing strategy:
Availability
Digital self-service lets your customers get the support they need from your business anytime, even when your employees are off the clock. This can be especially useful for global B2B companies where customers may be in different parts of the world.
Personalization
You can customize digital self-service tools to offer personalized customer experiences based on order history, preferences, and behavior. Build trust and upsell services by delivering targeted content, recommendations, and offers – without your customers having to ask.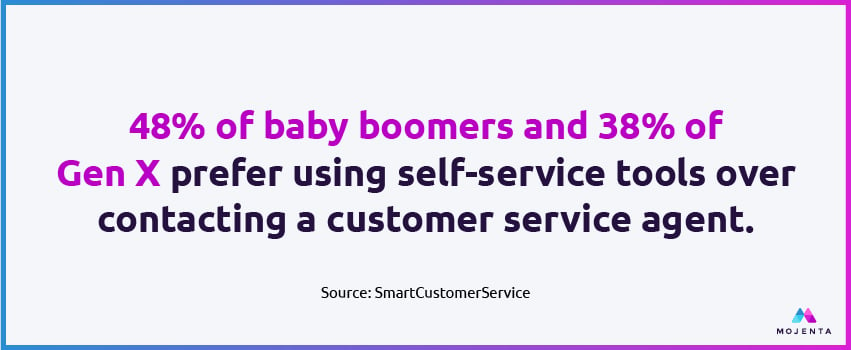 Accessibility
Gone are the days when customers have to wait for your service center to open before making a purchase or resolving an issue. Digital self-service allows your customers to perform tasks whenever they want.
Cost Savings
Implementing digital self-service options can help your business save money by freeing up resources for other high-value activities. Plus, you'll no longer need a large-scale customer support team to handle routine issues since customers can handle specific tasks themselves.
How Has the B2B Buyer Journey Evolved?
To give you a better idea of just how essential digital self-service is for B2B buyers, consider these recent stats:
70% of B2B decision makers say they're open to spending over $50,000 on new purchases using self-service options.3
77% of B2B buyers say their first step after identifying a need is to conduct their own research, while only 23% start by contacting a sales rep.4
71% of B2B companies no longer consider in-person sales to be their go-to-market sales model.5
The pandemic played a big part in popularizing self-service models for B2B purchases, but pandemic or not, it was bound to happen sooner than later. With B2B buyers now engaging businesses across multiple channels throughout the buyer journey, they've become more self-directed. Instead of relying on sales reps, they can now shop around and gather information at their own pace.
How Can B2B Businesses Implement Digital Self-Service?
Implementing digital self-service in your B2B marketing and sales strategies is likely easier than you think. In fact, you probably already have the basics of self-service. If you're like most B2B companies, you've automated some parts of the buyer journey with things like on-demand webinars and chatbots for years.
However, creating a cohesive self-service strategy will require your marketers and salespeople to build systems that allow buyers to experience your offerings on their own terms. Successful B2B digital self-service elements include user-friendly interfaces, integration with back-end systems (like your trusty CRM), personalization, and transparent pricing information.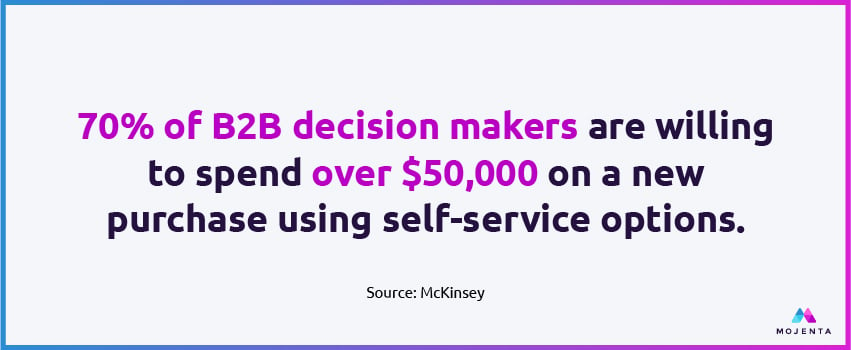 A few elements to focus on as you create your B2B digital self-service program include:
Make on-demand webinars accessible so your audience can view your video assets whenever they want.
Allowing customers to request quotes, samples, and demos online in just a few clicks.
Making purchasing and repurchasing as easy as possible, even for buyers on mobile devices.
Tips for Stellar Digital Self-Service
Offering digital self-service options should be part of every B2B business's operational strategy. But with more companies incorporating self-service, you can't just give your customers the basics. Step up your digital self-service game by:
Design a Customer-Centric Strategy
Before deploying any new technologies, map out your buyer journey and identify touchpoints where self-service options could enhance the customer experience. After analyzing the possibilities, ask your customers for input on the self-service options they'd prefer to see, and make sure to conduct usability tests to ensure your new tools are easy to use and understand.
Find the Right Starting Point
Putting self-service options in precisely the right starting point will likely take some trial and error, but ensuring customers use your self-service options could be the win you need to convince stakeholders that the investment will lead to better customer satisfaction, reduced costs, or both.
Create a Seamless Path to Agent Support
Some customers will inevitably need more help than self-service tools can provide. Build a clear path for your customers to reach an agent, and make sure agents have easy access to whatever happened during the self-service attempt so customers don't have to repeat themselves.
Continuously Refine Your Solutions
Self-service tools aren't "set it and forget it." Regularly monitor self-service KPIs, such as customer satisfaction scores, resolution time, or feedback ratings, and gather feedback through surveys or user testing to ensure your self-service options actually meet your customers' needs.
Ready to work self-service into your B2B marketing strategy?
Mojenta has helped telecom and IT companies build marketing strategies that generate sales opportunities for over a decade, and we're here to help you too. Contact our experts today to schedule a time to chat.
Sources: